I was entertaining yesterday, but I didn't want to let another day go by without a  Happy Birthday to our Los Angeles Kings Captain, Dustin Brown.
For a complete story on Dustin Brown, you can go to My Story: Dustin Brown at the LA Kings website.
A few notes on DB:
* Brownie was born in Ithaca, NY on 11-4-1984
* He started playing hockey when he was 3 and continued through squirt and pee wee until he was drafted into the OHL.
* Dustin left his family to live with a host family in Canada at 15 years old.
* Dustin was drafted in 2003 by the LA Kings in the first round
2003 draft
* Named 15th LA Kings Captain in 2008, the youngest player to wear the "C" and first American born Captain
* Finalist for the NHL Foundation Award in 2009, 2010 and won the award in 2011.
(The NHL Foundation Player Award is awarded annually to the National Hockey League (NHL) player "who applies the core values of (ice) hockey—commitment, perseverance and teamwork—to enrich the lives of people in his community")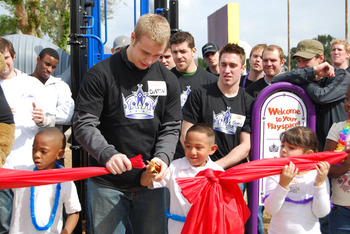 Happy Birthday Dustin Brown! I'm proud to have you as my team's Captain and I proudly wear my #23 jersey!
Go! Kings! Go!