Cosmo put out the Hottest Guys of NHL article yesterday. They based their picks on faces only along with the cheesiest blurbs known to magazine readers everywhere. Example for Ales Hemsky – "Sexy Ales scored his first hat trick this year. Clearly, he knows how to use his stick." Ewww on stupid tag lines as well as Hemsky. Then, I read the Battle of Cali and Rudy's take on the Cosmo article. (Battleofcali.com is weird because it is a Kings fan, a Sharks fan and a Ducks fan. But somehow it works for them). So I had to ask myself two questions. First, What the hell do men know about how hot other men are? My husband the other day was talking about how women must think Ovechkin is handsome because he always has so many ladies. Seriously? That is one ugly mug. We all know it's the green stuff in his pocket they love and not that face. Second, Can you really pick a hot NHL guy with no knowledge of the game like Cosmo? What if he is cute but a total ass like Kesler? Can't pick him.
So as a service to you,  my wonderful hockey loving women, I decided to look these picks over and give the list of the hottest hockey players according to REAL hockey loving women. But I didn't do this alone! All  input is from hockey ladies ages 21 – 74! Below are our picks:
Anaheim Ducks
Teemu Salanne – What good knowledgeable hockey woman wouldn't pick "The Finnish Flash"! (No, we can't pick Bobby because he isn't really a Duck. He is a King in disguise – we all know it. )
Boston Bruins
Tyler Seguin – Young hockey ladies from all over love Tyler. He also made the all-star team in his rookie season.
Buffalo Sabres
Marcus Foligno – Good looking and comes from a hockey family. His brother Nick plays for Ottawa. Plus he mimicked his dad recently, (former NHLPA member Mike Foligno), doing the famous 'Foligno Leap' after scoring a goal for the Sabres.
Calgary Flames
Jarome Iginla – Doesn't matter what age you are, Iginla's got it. Not only as a handsome man, but a great leader and great hockey player. Perfect really.
Carolina Hurricanes
Tuomo Ruutu – 29 year old Finn that had a shaky start to his career and now is signed with the Hurricanes for 4 mil a year. Way to stay in there and keep working. Plus he is crazy good-looking.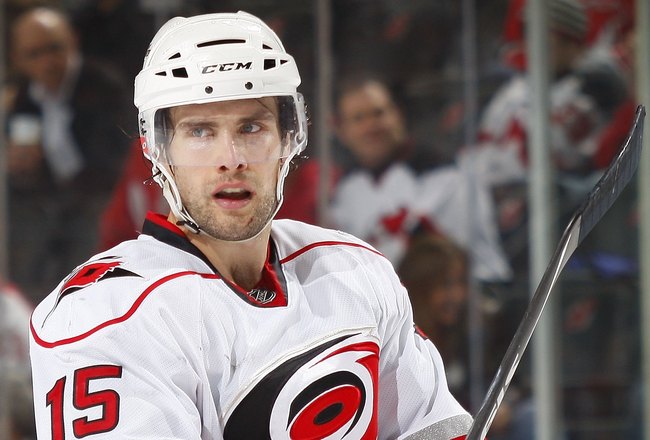 Chicago Blackhawks
Patrick Sharp – A great player, a great looking man and he married his long term girlfriend last year and had a baby. All around +.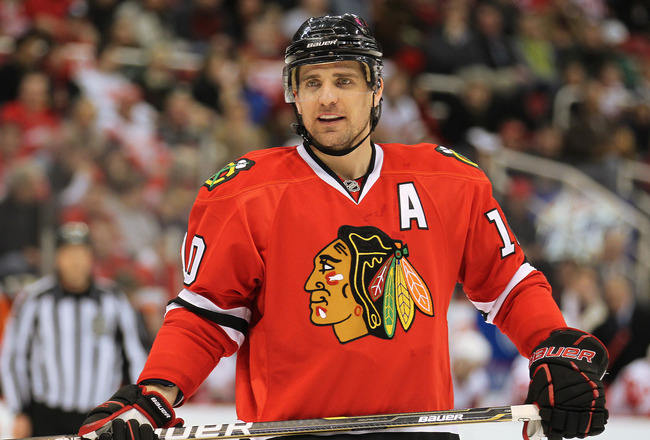 Colorado Avalanche
Columbus Blue Jackets
Rick Nash – That's just he way it is. Nash is a great player and Captain. Plus he is nice to look at.
Dallas Stars
Eric Nystrom – He is the son of former NHL player Bob Nystrom.  Eric is not only a very handsome man, but he is involved with charitable endeavors throughout his career.
Detroit Red Wings
Nicklas Lidstrom – 41-year-old Swedish Captain that in his 19 NHL seasons, he has won four Stanley Cups, seven Norris Trophies as the NHL's best defenseman, one Conn Smythe Trophy as the league's best playoff performer, and has been voted into eleven NHL All Star games. Now that hot!
Edmonton Oilers
Theo Peckham – Up from the AHL and signed to a one year contract, Peckham is working hard to stay in the lineup. His goal against Detroit helped and we hope he makes it!
Florida Panthers
Scottie Upshall – Tough and good looking, Upshall has nine points (3-6-9) in 22 playoff games.
Los Angeles Kings
Dustin Penner – What can you say about Penner? He is known by the ladies as one sexy beast who also has a sense of humor. That equals irresistible!
Minnesota Wild
Clayton Stoner – Stoner's first job was a commercial fisherman. Now is a tough defenseman for the Wild.
Montreal Canadiens
Brian Gionta – Handsome Captain of the Canadiens, Gionta is a former olympian and Gionta also currently holds the franchise all-time power play goal scoring record in a season with 24 for the Devils.
Nashville Predators
Mike Fisher – So handsome!  In the off-season, Fisher devotes time to hockey camps in his hometown in Canada. He is married to Carrie Fisher (Underwood).
New Jersey Devils
Zack Parise – Captain of the New Jersey Devils and future Los Angeles King. (One can dream can't they?).
New York Islanders
John Tavares – Besides being a total cutie, from December 29, 2011, to January 21, 2012, Tavares had 21 points in a 12-game point streak, seven of which were multi-point games.
New York Rangers
Henrik Lundqvist – Shhh…let's not spoil the moment by talking…
Ottawa Senators
Erik Karlsson – Besides being a #1 fan favorite, Karlsson finished the season as the leading scorer among NHL defensemen, leading second place Byfuglien and Campbell by 25 points.
Philadelphia Flyers
Claude Giroux – A lot of good looking Flyers, but Giroux gets our vote because as a hockey player, he is a difference maker. And such a sweet face!
Phoenix Coyotes
Taylor Pyatt – He's one of the reasons Phoenix is winning the playoffs including a game winning goal. The ladies love his eyes.
Pittsburg Penguins
Kris Letang – Besides looking like he should be on the cover of a romance novel, Letang stepped up and helped the Penguins to the fourth-best record in the league with 49 wins and 106 points  in 2011 despite long-term injuries to the team's top three centres – Crosby, Malkin and Staal.
San Jose Sharks
Brent Burns – Despite having a reputation as a hard ass, Burns is an animal lover and starting in the 2009 season, Burns purchased a suite at the Xcel Energy Center for members of the military and their families to attend Wild home games.
St. Louis Blues
Patrick Berglund – Another female fan favorite, Berglund has three goals and three assists in four games against the Sharks, keeping the Blues in the playoffs.
Tampa Bay Lightning
Ryan Malone – Besides being a very good looking man, the Lightning signed Malone to a seven-year contract worth $31.5 million, which paid him $6 million for the first season.
Toronto Maple Leafs
Joffrey Lupul – Lupol played on the line with Kessel and played a great season resulting in his being invited to the 2012 All Star Game.  He has a huge female fan club.
Vancouver Canucks
Chris Higgins  – This is a hard one. No one could agree so we are picking Higgins because he was out sick and worked his way back. Higgins  recorded 43 points (18 goals and 25 assists), his highest total in four years and fifth among team forwards. He also the most handsome out of all the Canucks.
Washington Capitols
Braden Holtby – Who doesn't love Holtby right now? And not just for his face! Braden played a few games during the end of the season but the Capitols recalled him after their goalies went out injured. Holtby played his first game back in the Cup playoffs with a 1-1 vs Boston as of today.
Winnipeg Jets
Zach Bogosian –  Bogosian signed with the Jets for 2 years and Ranked third on the team in average ice time overall with 22:20. He was a no-brainer as the cutest jet.
So there you have it ladies. 30 hockey hotties from women who know about their hockey and the men who play the sport. Hope you had as much fun reading this as I did putting it together!!