Anze Kopitar went home to Jesenice,Slovania and Andrei Lokti went home to Loskresensk, Russia. Slava Voynov also went home to Cheylabinsk, Russia and all 3 of them took the Stanley Cup with them. I wanted to share their food with all of you so I found 2 recipes from their countries. I tested them and loved them. So here they are for anyone who is interested in trying something new and yummy from our friends in Slovenia and Russia to celebrate the Cup.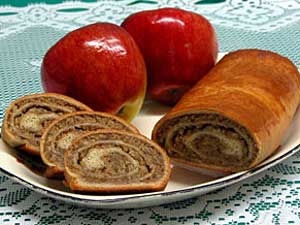 Potica  (pronounced Po-tee-tza) is a marvelous yeast bread that rolls around a heavenly filling of chopped nuts, honey, butter, cinnamon and raisins. It is usually served at celebrations such as Easter and Christmas.
1 ½ tsp. active dry yeast                             ¼ cup white sugar                         ¼ cup lukewarm milk
1 cup butter, softened                                  6 egg yolks                                         1 1/3 cups milk
5 cups all-purpose flour                              1 tsp. salt                                            1 cup butter, melted
1 cup honey                                                      1 ½ cup raisins                                1 ½ cups finely chopped walnuts
1 tablespoon cinnamon
In a small mixing bowl, dissolve yeast, 1 teaspoon sugar and 3 tablespoons flour in warm milk. Mix well, and let stand until creamy, about 10 minutes.
In a large mixing bowl, cream butter with remaining sugar. Add egg yolks one at a time, beating well after each addition. Add the yeast mixture, remaining milk, 4 cups flour and the salt; mix well. Add remaining flour, ½ cup at a time, stirring well after each addition. When the dough has pulled together, turn it out onto a lightly floured surface and knead until smooth and elastic, about 8 minutes. Lightly oil a large bowl, place the dough in the bowl and turn to coat with oil. Cover with a damp cloth and let rise in a warm place until doubled in volume, about 1 hour.
Lightly grease one or two cookie sheets. Deflate the dough and turn it out onto a lightly floured surface (I used a tea towel to help with the rolling). Divide into two equal pieces and roll out to ¼ to 1/2 –inch thickness. Spread each piece with melted butter, honey, raisins, walnuts and cinnamon. Roll each piece up like a jelly roll and pinch the ends. Place seam side down onto prepared baking sheets. Let rise until double in volume. Preheat oven to 350 degrees F (175 degrees C)
Bake at for about 60 minutes or until top is golden brown.
Kholdnyk (A Russian cold Beet soup)
A creamy, tangy beet and buttermilk soup is refreshing on a summer evening. Add a piece of rye or pumpernickel bread served on the side to complete the Russian experience.
4 cups fat free buttermilk
1 cucumber – peeled, seeded quartered lengthwise and diced
1 (15 oz) can sliced beets with liquid
3 green onions, chopped
2 tablespoons chopped fresh dill
½ tsp. salt or to taste
2 tablespoons white vinegar or to taste
Mix the buttermilk, cucumber, beets and their juice, green onions, dill, salt and vinegar in a bowl; stir to mix thoroughly, and chill, covered in the refrigerator for at least 2 hours or overnight for best flavor. Serve cold.
It is really delicious but be prepared for the fact that it may look like pepto-bismal  when you get ready to serve it. lol
GO KINGS!!!