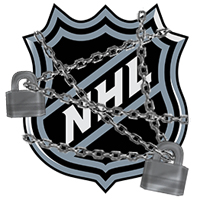 The NHL announced they have cancelled two weeks of the regular season through October 24, 2012. 

This affects the following LA Kings home schedule of games:
- October 12 vs NY Rangers
- October 18 vs Carolina
– October 21 vs Edmonton
– October 23 vs Nashville
Especially the first one where we were supposed to hang our Championship banner. I think disappointing is an understatement right now. I know we all can agree that until the owners feel any revenue drops, this lockout will continue. January 1st, 2013 is the Winter Classic and they will definitely feel the loss if that is cancelled. I am guessing we will have no games until then.  All about greed, folks. In fact, the NHL doesn't even have to lockout the season. They can let it start and continue to negotiate with the NHLPA. Unfortunately, they would rather not.
You can voice your opinion by calling the NHL offices. @NoNHLLockout12 has provided anyone who is interested with the following:
Read the message in the "picture" before calling (212) 789-2000 (NHL's Office) Thanks!
I'm sure there are tons more as the fans and the social media meet during this lockout. Should be interesting the more pissed off the fans become.